I work on a consultancy basis which has the following benefits for you –
Much lower costs than working with an agency who will try and get you onto an expensive retainer
I can work in-house with your team or remotely
I can help train you or your team which empowers your business by transferring skills to your team
Pay as you go with an hourly or daily rate. Whether it's 2 hours' work or 2 months' work, there's less pressure for you to hire more staff before you are ready.
Get In Touch Today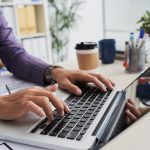 No matter what stage your ecommerce business is at, I can help with:
Website Audits
No website is perfect, but I can quickly audit your website to see if it's optimised for large traffic volumes. Sometimes the simplest of changes can increase organic Google rankings and your conversion rate. Once your website is in good condition you can look at sending paid traffic to it.
Content Strategy
Not sure what content best suits your business? Each business is different, I can help identify content gaps, whether written or video. Content for the sake of it is pointless – your website's content should be driving traffic and conversions. I can help with both content strategy and production.
Reporting & Analytics
While your online business may be performing well, you may be unsure just what exactly is driving sales. I'll help you understand Google Analytics configuration so you can know where the sales are coming and focus more energy into those channels. This knowledge will give you the power to upscale your business quickly.