Analytics & Data Consultancy
Are you struggling to interpret your Google Analytics data?
Do you need to migrate from Universal Analytics to GA4?
Maybe you understand the data but struggle to visualise it in a usable report
Having spent £1millions on Google advertising and helped companies rank #1 on Google for high traffic search terms, I need to be highly qualified at analysing website data. I can find insight that will help you grow your business.
Get In Touch Now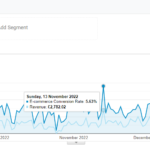 Do you need help with Google Analytics or Data Studio?
Google Analytics
I have worked in Google Analytics almost daily for over 20 years. The power of being able to analyse data has allowed me to help businesses grow. The first step is to make sure you analytics is set-up correctly. I can support you with the following –
Ecommerce implementation
Migrate from Universal Analytics to GA4
Set-up events and goals
Linking Google Ads with Google Analytics
Once your analytics is set-up correctly you can be confident in your data. I'll help you create reports that will enable you to make valuable decisions. Some examples of reports I can set-up for your business are as follows –
High traffic landing pages that drive revenue
Times of day/week/month that convert the best
Demographics such as age and gender that buy from you
Content that is not performing
Which locations are important to your business
Custom reports tailored to your need
The above insights can help drive your SEO strategy and help make your paid advertising more profitable.
GA4 & Set-up & Migration
Setting up a new GA4 profile is relatively easy, but setting up e-commerce functionality, tracking revenue and importing goals from Universal Analytics can be more challenging.
GA4 reporting is very different to Universal Analytics. There's a lot more emphasis on custom reports and some of the data you may be used to accessing in UA is not quickly available in GA4.
I can help with set-up and reporting so you can concentrate on actioning the insights from the data. Don't forget Universal Analytics will no longer process new data from 1 July 2023, so don't hesitate to get in touch if you need support with you analytics migration.
Looker/Data Studio
Google Data Studio, which is now called Looker Studio (I'm not sure why!) becomes increasingly useful once you have migrated to GA4. Reporting and visualisation becomes easier in Looker Studio. I can build custom reports to help you quickly access the data that you have been capturing in both Google Ads & Google Analytics. The type of reports I can create for your business are as follows –
Cost per conversion by month
Ad performance
Campaign performance
Landing page performance
Keyword performance
Product performance
Funnel visualisation