A step by step guide to advertising your products on Google Shopping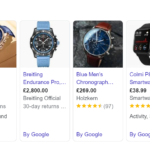 If you're in the midst of setting up an e-commerce business, you'll quickly come to realise that advertising your products on Google is one of the most effective ways to grow your business. When it comes to most physical products, Google Shopping is one of the best channels Google has to offer. Here's a step-by-step guide to aid you in this process. If you find yourself stuck, please don't hesitate to get in touch for support.
Step 1: Set Up a Google Merchant Center Account
Visit the Google Merchant Center website (https://merchants.google.com/).
Sign in using your Google account credentials or create a new account if needed.
Click on "Get Started" to begin setting up your Merchant Center account.
Provide your business details, website URL, and contact information.
Step 2: Add Your Product Feed
After setting up your Merchant Center account, navigate to "Products" in the left-hand menu.
Choose "Feeds" and click the "+" button, then select "Standard" to create a new product feed.
Select your country and language preferences for the feed.
Decide how to submit your product data:

Upload a spreadsheet: Prepare a feed in an appropriate format (XML, CSV, or TSV) containing all necessary product details.
Use an e-commerce platform: If you use platforms like Shopify or WooCommerce, you might be able to integrate directly with Google Merchant Center.
Step 3: Optimise Your Product Data
Ensure that your product feed contains accurate, up-to-date information, including product title, description, price, availability, brand, GTIN (Global Trade Item Number), and high-quality images.
Adhere to Google's feed specifications and guidelines to format your product data correctly.
Step 4: Verify and Claim Your Website
Click on "Business information" in the left-hand menu.
Verify and claim your website by following the provided instructions, which might involve adding a code snippet to your website or utilising Google Tag Manager.
Step 5: Set Up Google Ads Account
If you don't have a Google Ads account, visit https://ads.google.com/ and sign up.
Link your Google Merchant Center account to your Google Ads account:

In Google Ads, click on the tools icon (wrench) in the upper right corner.
Under "Setup," select "Linked accounts."
Click on "Google Merchant Center" and follow the prompts to link your accounts.
Step 6: Create a Shopping Campaign
In Google Ads, click the "+" button and choose "New campaign."
Select your campaign objective as "Sales" or "Leads."
Opt for the "Shopping" campaign type.
Choose the Merchant Center account containing the product feed you want to use.
Configure campaign settings, including budget, location targeting, and bidding strategy.
Step 7: Create Ad Groups
Inside your shopping campaign, click the "+" button and choose "Ad group."
Assign a name to your ad group and set a bid for your products.
Organise your products within the ad group by:

Product attributes (e.g., product type, brand)
Custom labels set in your product feed.
Step 8: Set Up Product Groups and Bids
Within the ad group, click the "+" button and choose "Product group."
Decide how to categorise your products (e.g., by brand, category).
Set bids for each product group based on performance and competitiveness.
Step 9: Create Shopping Ads
In your ad group, click the "+" button and choose "Ad."
Select "Shopping ad" and pick the desired ad format.
Personalise the ad's title, description, and any promotional text.
Include a relevant high-quality image for your ad.
Step 10: Review and Launch
Review your campaign settings, ad groups, product groups, and ads to ensure accuracy and alignment with your goals.
When satisfied, click "Save" or "Launch" to initiate your Google Shopping campaign.
Step 11: Monitor and Optimise
Regularly monitor campaign performance within Google Ads.
Analyse data like clicks, impressions, conversions, and click-through rates.
Adjust bids, optimise product groups, and refine ad content based on performance data.
Remember, successful Google Shopping campaigns require ongoing management and optimisation to achieve optimal results. It's wise to stay informed about Google's advertising best practices and any platform updates. If you need support with set-up or optimisation of your campaigns, do not hesitate to get in touch.